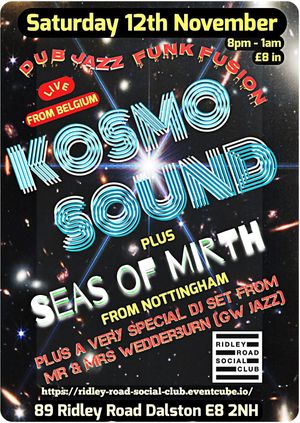 Cancelled // Kosmo Sound (Belgium) / Seas of Mirth (Nottingham) / Mr and Mrs Wedderburn (GW Jazz)
12th Nov 2022 8pm - 1am
at Ridley Road Social Club
Add to Calendar
Tickets
Booking Refund
Insurance
Event Details
Dub - Jazz - Funk - Fusion featuring KOSMO SOUND and SEAS OF MIRTH live
+ a very special DJ set from the legendary Mr and Mrs Wedderburn (GW Jazz).


KOSMO SOUND (BELGIUM)
With a background in jazz, Kosmo Sound creates an exciting, danceable and eclectic universe with tight grooves, oriental sounds and spacy sound effects. Improvisations and expansive melodies take the listener on a trip through their cosmos. The sextet has toured the UK several times. That is where the inspiration for the full album Antenna in 2020 arose. The ultimate recognition came when their singles were mixed by dub legends Daniel Boyle and Alpha & Omega and when they played as the support act for Adrian Sherwood, The Twinkle Brothers and Omar Perry.
SEAS OF MIRTH
Seas of Mirth have been stamping their own mark on modern music for the last decade, mixing up styles and genres while also being known for their aquatic twist. Their sonic span comprises areas of psyche, dark funk, jazz, disco, latin and chime pop while comparisons have been made to the likes of Cardiacs, Stereolab, Talking Heads, Parliament, Animal Collective and Frank Zappa. Live, there is a huge emphasis to bring the tunes to life in an enthralling sensory experience made possible with big luminous sea creature props emerging through the course of the set.
With a very special DJ set from...
MR AND MRS WEDDERBURN (GW JAZZ)
Gordon & Gillian Wedderburn are the couple behind GW Jazz, a grassroots organization supporting Jazz, particularly emerging talent in London. Through their live event residencies, radio show, selector/DJ activities and clothing brand, they've collaborated with and supported some of the biggest names on the London Jazz scene including, Sons of Kemet, Zara McFarlane, Ben Hayes, Nubiya Garcia, Moses Boyd, Lokkhi Terra, Dele Sosimi, Theon Cross, Tomorrow's Warriors, Collocutor, and Ezra Collective, to name a few.
Celebrating ten years on the scene, they are known particularly for spotting and helping to nurture young talent and their residences are often touted as the place to go to see the next wave of talented musicians. The collectives Nihilism, Invariance, Brother's Testament and Hypernova are but a few that have performed on the GW Jazz platform.
Gillian & Gordon sets largely parlay the now and next generation of musicians and producers and bring Jazz, electronica, dub, world, neo-soul, lo-fi, afrobeat, Brazilian and more together, combining their Jamaican livity and cosmopolitan London existence.
--------------------------
Ridley Road Social Club
First Floor, 89 Ridley Road
E8 2NH